Ultra-Portable Modular Column Array E1 Series
Listen-Acoustic introduces its new Modular Column Array sound systems E1 series. This series, with finely worked design, is spread over 2 column types by wired and wireless connecting. The first category E1-M satellite can be composed by different number of modules. Each module fits to another one and you can decide the preferred angle up to 360° rotating. The audio and power pass by speakon.
Another connected by quick-insert. E1-MT has two for install in middle, while E1-MT has only one to be put on top. Both has the same other features.It is easy to install and to take away thanks to their stacking system.
Moreover,the whole amplification process happens within 10'' powered subwoofer E1-10D and E3-10D (without one speakon to satellite), to make things easier, while connectors, theamplification and DSP module are precise and user-friendly. Also you could add E1-10DM which is another active version without DSP for more bass.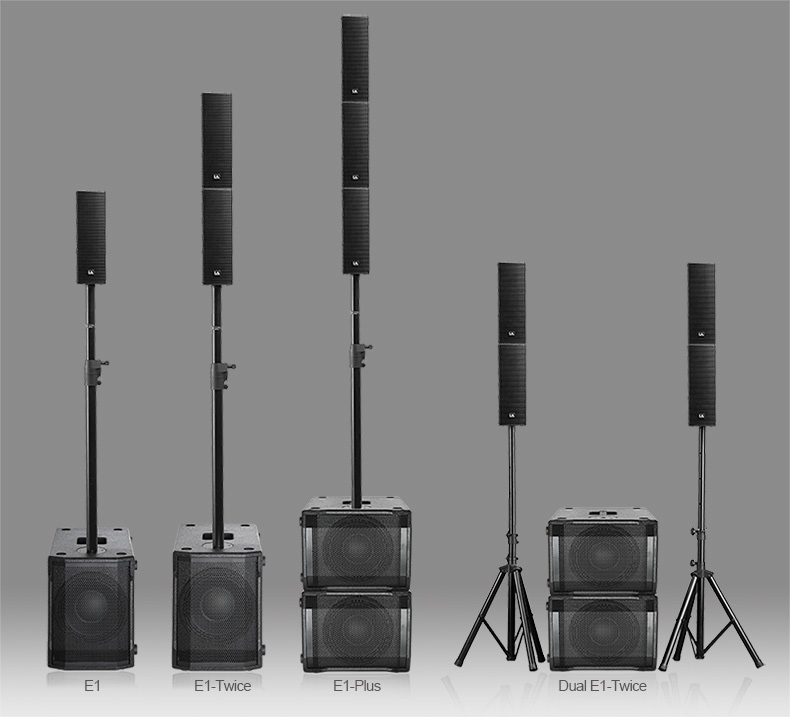 Features
1. Active Column 4 * 2.75", Neodymium Magnet
2. 10" Subwoofer, 2.5" Voice Coil
3. RMS 400 Wattes Class-D Amplifiers
4. Built-in DSP Module 3 Preset Modes
5. Flexiable Modular Design
6. Variety of configurations
Applications
Modularity is the keyword of this innovative system, designed for one-man band, small band to big orchestra, home and movie theaters, churches... different configurations which can be adapted to all your needs giving unparalleled flexibility whatever the application: from small to large audience!